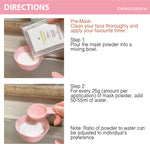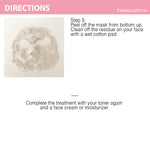 Pearl Modeling Rubber Mask (1kg Salon Pack)
This product is currently out of stock and unavailable.
WHAT IS A MODELING MASK? 
Modeling Mask (sometimes also known as "Rubber Mask", "Alginate Mask", "Soft Mask") is a professional facial care product and considered as a staple in beauty salons as they are commonly used in most facial treatments. Starting out in a powder form, these modeling masks transforms into a paste-like texture with the addition of different types of activator which includes water. The paste-like mask mixture will then be applied onto the entire face and allowed to dry, then peeled off in one big, rubbery sheet.
ABOUT
♥ Spa Grade
♥ For Professional Use
♥ Tones & Whitens Skin
♥ Dimishes Wrinkles
♥ Restores Skin Suppleness
Since ancient times, pearl powder has been known and used by many for its beauty benefits. The active enzymes present in the pearl powder helps to promote a healthy and glowy skin, and aims to slow down the aging process by diminishing wrinkles and fine lines. The Pearl Rubber Soft Mask is extremely useful for those looking to keep your skin young and supple.
INGREDIENTS
Diatomite, Sodium Alginate, Calcium Sulfate, Cornstarch, Talcum Powder, Pearl Powder and Essence.
DIRECTIONS
Clean your face thoroughly and apply your favourite toner.

For every 25g (amount per application) of mask powder, add 50-55 ml of water and mix well until it forms a paste-like texture.

Spread the mask evenly over face.

Leave mask on for 15-20 minutes and peel off from the bottom up. Optional: Rinse face with water.

Complete the treatment with your toner again and a face cream or moisturizer.
QUANTITY
1 kg / 35.2 oz per pack
NOT SURE IF YOU WOULD LIKE THIS MASK?
Get the 25g sachet duo-pack here, perfect for first-time users! 
***RECOMMENDED BUYS***
DIY SOFT MASK TOOL SET - GET IT HERE.