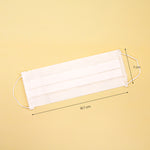 2-Ply Surgical Disposable Paper Face Mask (100 count/box)
This product is currently out of stock and unavailable.
<<Important - Please read**>>

Due to the recent outbreak of the coronavirus, the market is facing an overwhelming demand for both surgical and paper mouth masks, and the suppliers/manufacturers we are working with are having a shortage of supplies, and prices of these masks have been affected.
We are unable to fulfill orders placed between the 24-28 January 2020 as this would mean we would be making a huge loss, and we will be canceling these orders and refunds will be performed.  
===
ABOUT
♥ MATERIAL: PAPER
♥ AVAILABLE IN SINGLE PLY AND TWO-PLY
♥ SUITABLE FOR SALON & HOME USE: Ideal for use by both professionals and home-based individuals. 
QUANTITY
100 count per box
SIZE
Body: 19.7 x 7 cm (6.88 x 3.74 inches)

*Measurements are taken by hand; please allow 1-3mm of error allowance*